Gasunie wants to green-up. But where to begin? It's not easy to start an internal mentality change. Luckily motivation, dedication, and a good splash of Brain Fuel will give it a kick start.
The beauty of the innovation/transition trajectory we carried out for Gasunie, is that there was so much intrinsic motivation to change. A group of enthusiastic employees had already started the greening process by founding the sustainability team Gasunie Green Teams. They had already begun asking their colleagues within the organisation for ideas. Their response was great. Enormous. There were more than 100.
The main ingredient of change is enthusiastic and driven people. Without them, the process of change will never stand a chance. Fortunately, that never was nor will be a problem at Gasunie.
Friso Visser – creative lead at Brain Fuel
Together with Gasunie Green Teams we turn these ideas into reality. An important first step is a design session: in this session we explore together with the client what the process will look like, and what steps we need to take. How do we turn that bulk of ideas into a couple of concrete cases? What must be done to make them a reality? We tackled these questions in advance, to be able to plan them well prepared.
Our goal was to implement the three ideas that got the most votes for real. It wasn't for show: Green Teams had already gotten permission ànd support from the Gasunie Board of Directors.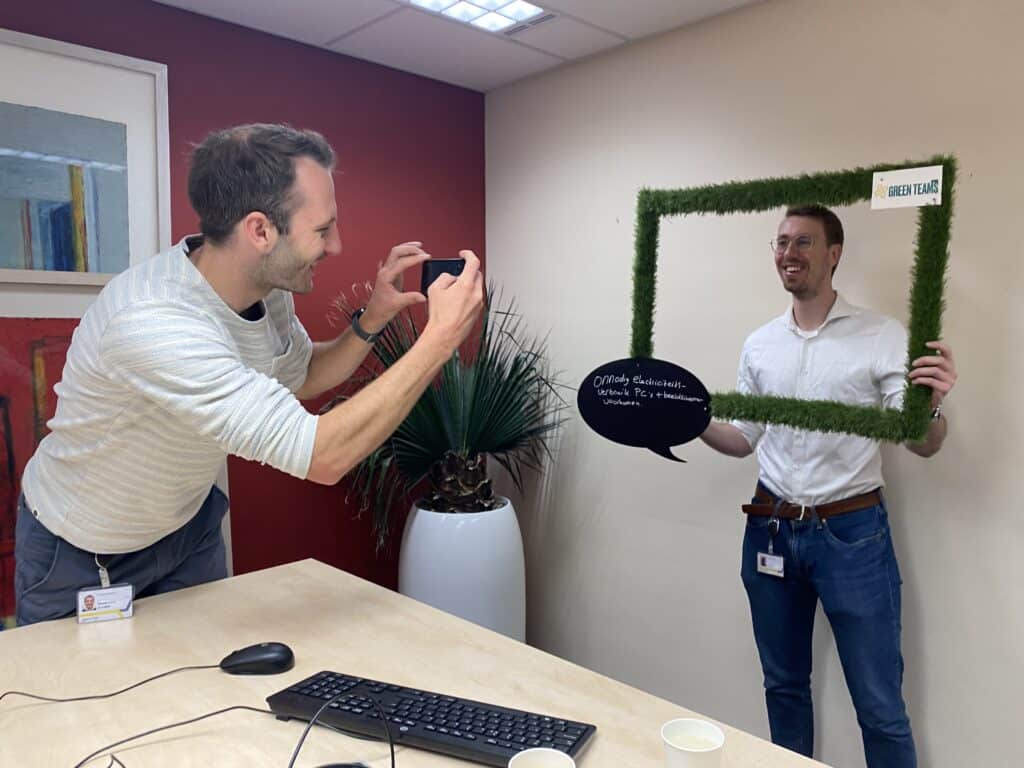 Matching Event
Enter a special matching event. It sounds like a romantic dating night – and you're not far off. At the start of the event there was a large chalk board for all the participants to look at, it listed all topics. Next: matching time! Who would like to commit to what topic? Participants were matched and worked out the topics that had the most potential.
For this we designed a huge Green Teams Matchings Canvas. Groups of people could fill out questions on it, like: what are the pros and cons of this concept? What do we need to make it come true? Which stakeholders do we need for this? And, quite important, to what concrete actions does this lead us? Ah, the key parts of a successful date.
---
Insights from Friso
+ Celebrate every little succes. For the participants, the client ànd for yourself. People tend to be focused on the end goal so much they forget to enjoy the awesome and important things they're doing in the meantime.
+ During the first year you must prove your worth to yourself and the stakeholders. That's part of the job. So, keep your eye on the final goal from the beginning. Then it's also easier to afterwards say: we did it.
---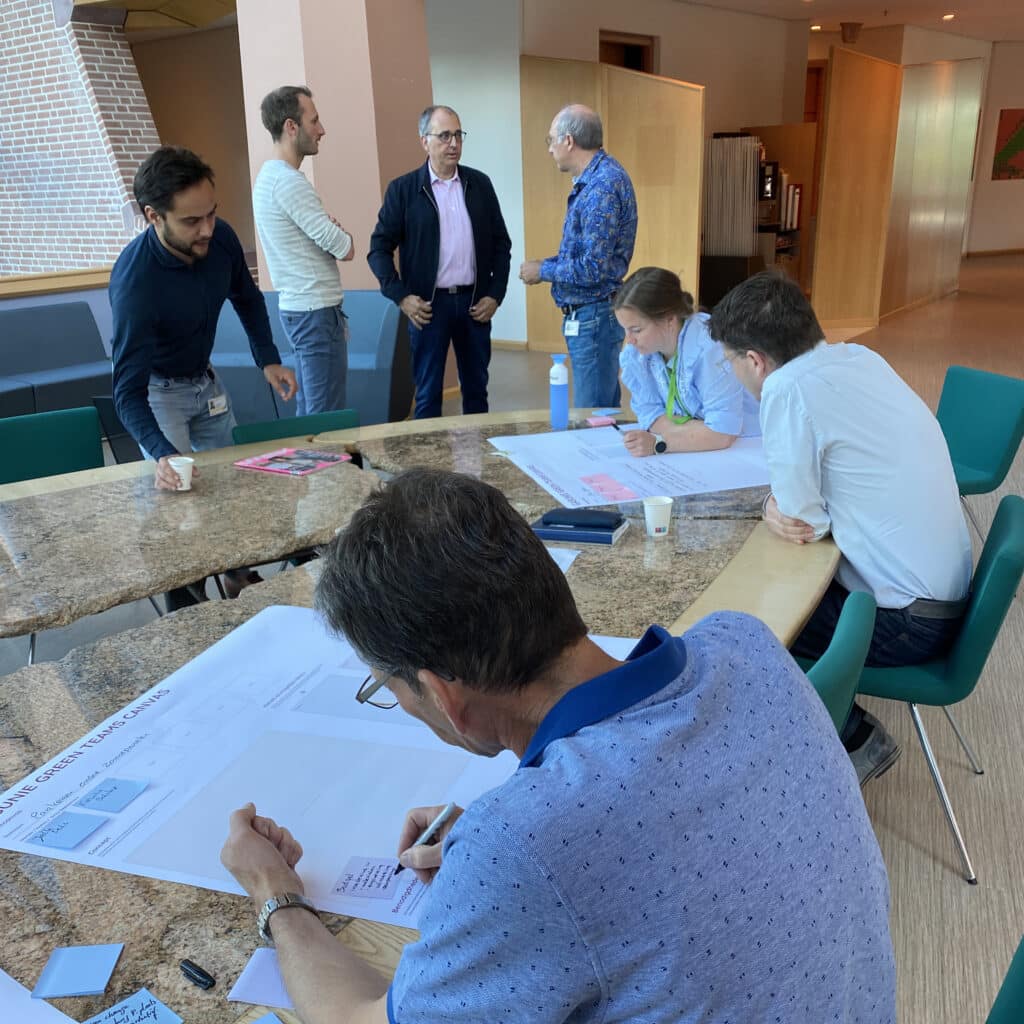 Happily separated
Before the ideas were presented to the organisation, the jury had the opportunity to adjust the concepts or dismiss them. In the end, the bulk had been narrowed down to six wonderful, green ideas. Employees of Gasunie could bring out their votes and the idea that got the most votes was actually implemented.
Then? Time to make the idea a reality. Gasunie had already cleared time and budget. Gasunie Green Teams and Brain Fuel created the traject together: from idea to execution and implementation.
To green up an organisation isn't done in one day and especially not alone. The cool thing about working together with Brain Fuel is to navigate the journey together. Depending on whether we need it, Brain Fuel will give us a boost to make the next step."
– Duco Bijleveld, project manager Gasunie Green Teams
In the end, these were the winners:
Shortened Parking Route. Gasunie's parking area has been revised, so parking is more space effective and driving past it is easier. Reduction of time, money and, even more important, carbondioxide.
Green 'butchers'. Half of the food the caterers offer is now vegetarian. Meeting lunches are vegetarian by default, unless you state otherwise.
Happily separated. Pull out all the stops to separate rubbish in a fun and proper way. Not only when it comes to bins, but in all areas of waste disposal.
A success like this is unusual. As we describe it, it seems like common sense, but in reality it's rare to see these enhancements implemented within a year. Intrinsically motivated people, enthusiasm ànd the support of the board of directors make it possible.
Besides, at Gasunie Green Teams the enthusiasm hasn't left at all. As we speak, we started a second cycle, in which we go through the traject from front to back again. That's how we make Gasunie ànd the whole world a little bit greener every day.
We love to work with you.
Are you curious about what a traject could mean to you? Using our tools and solutions, we will no doubt find the right path forward. Don't hesitate to contact us.